invitation belt road investment forum
INVITATION || The Belt & Road Investment Forum
Invitation to Participate in the
Malaysia-China –
The Belt & Road Investment Forum
"Building Win-Win Synergies"
In conjunction with the mission of Malaysian Chamber of Commerce and Industry in China (MAYCHAM China) to promote interaction, cooperation and developmentin trade, investment, and other industrial and commercial fields between Malaysia and China, and with the support of the China-Malaysia Qinzhou Industrial Park (Guangxi) Development Co., Ltd. (CMQIP), MAYCHAM China and CMQIP will be jointly organizing the Malaysia-China – The Belt & Road Investment Forum – "Building Win-Win Synergies" to showcase the best of Malaysia to prospective industry captains and investors from the two countries.
---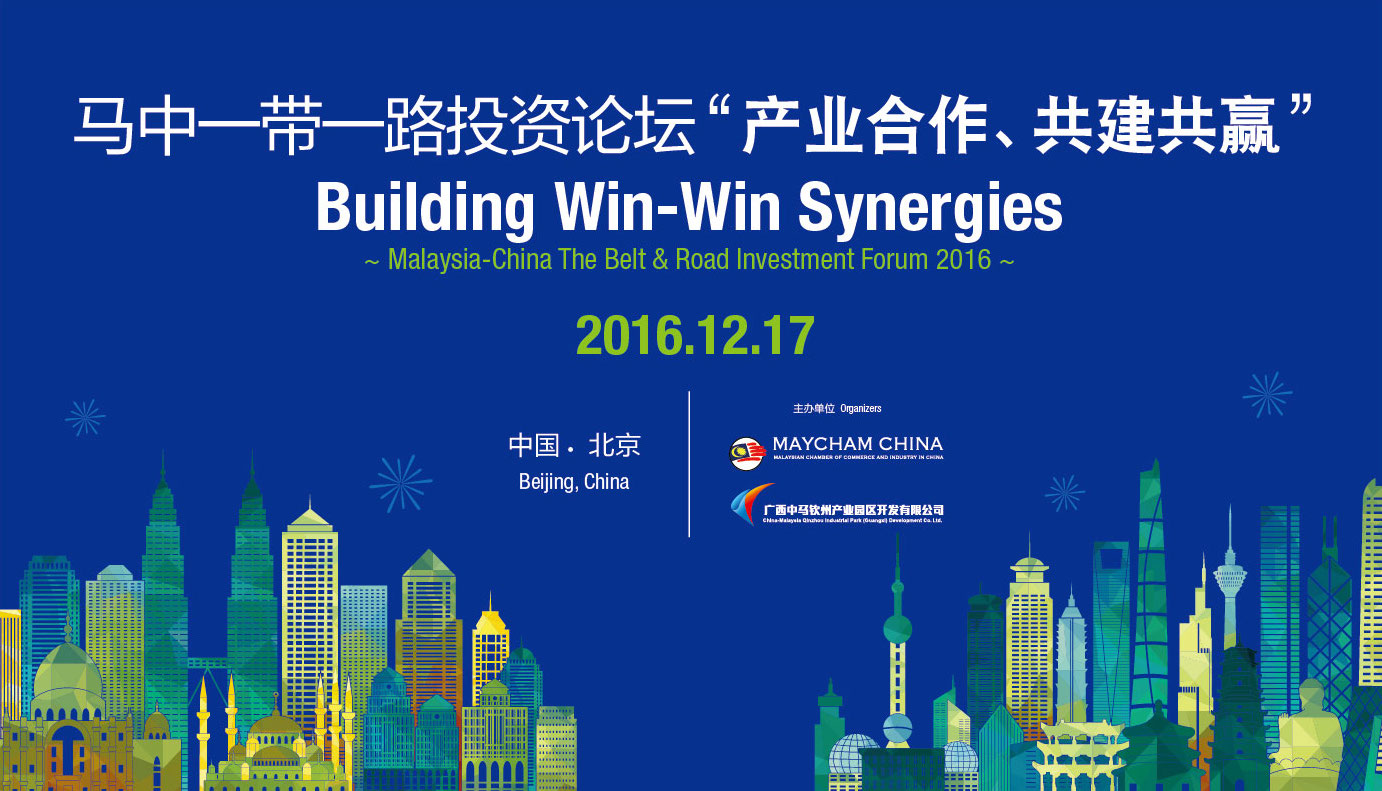 It is our honor and pleasure to invite you to participate in this forum, the details as follows:
       DATE:          December 17, 2016 (Saturday)
       VENUE:       JW Marriott Hotel, Beijing
       ADDRESS:   83, Jian Guo Road, China Central Place - Chaoyang District, Beijing 100025, PRC.
       TIME:        9:00 am – 1:00 pm (Complimentary with lunch)
---
BACKGROUND
Economic and trade relations between Malaysia and China had grown significantly inrecent times. Following the Malaysian Prime Minister YAB Datuk Seri Najib Razak's third official 5-day visit to China recently in November, it was notonly historical from the business perspective, but the overall bilateral relations between China and Malaysia have grown from strength to strength andhave progressed by leaps and bounds. Malaysian and Chinese companies had made historic achievements with the signing of 14 bilateral commercial agreements worth a total combined value of RM144 billion.
In the long term, we must create knowledge economies. It is to ensure that the benefits of economic growth are shared. The future prosperity of any nation depends on the performance of its people. Therefore, MAYCHAM hopes this forum can reach out to the Malaysia's business counterpart to realize the latent talent of our people and the potential for investing in Malaysia.
Purpose:
Building Win-Win Synergies by tapping
into the strength and availability of CMQIP
China has been a very important destination and market for Malaysian investments abroad in the past, but we are now witnessing a reverse trend especially after the launching of The Belt & Road Initiative in September 2013 by President Xi Jinping, the "Going Global" by many Chinese corporatesboth State-Owned as well as the private enterprises have been escalating at atremendous rate. It is hoped that with Malaysia's present strong economic fundamentals, stability in politics, economy, social harmony and diversities, Malaysia continues to be a very attractive destination for foreign direct investments and is truly a nation with many business opportunities, and geographically speaking, Malaysia is well placed as, Your Investment Gateway to ASEAN.
China-Malaysia Qinzhou Industrial Park (CMQIP for short), planned to be 55 square km, designed as an integrated modern industrial district for industries, businesses and residence. It is part of the agreement reached upon by Chinese and Malaysian Prime Ministers in April 2011, when Premier Wen Jiabao proposed that QIP to be the first industrial park collaborated by China and Malaysia in West China, and therefore holds importantmodel significance. QIP will focus on equipment manufacturing, electronic information, new energy & new materials, deep processing of agricultural and sideline products and modern services. The start-up district will be focused on trading, logistics, and processing & manufacturing for importand export.
In accordance with the principles of being "guided by the governments, based onthe industrial park, operated by enterprises, driven by projects and aimed atshared interests", QIP will be built into an international high-tech and low carbon industrial park, a landmark project for Sino-Malaysian economic and trade cooperation and a model area of cooperation in China-ASEAN Free Trade Area (CAFTA).

Attendees
If you accept our invitation, please fill in below QR CODE Reply Form to us before December 15, 2016.